Cement benches Hyderabad: Our Concrete Precast industry experience to the manufacturer, wholesaler, Supplier retail, trade, and impeccable High-quality Garden Bench. The offered Precast Products is praised in the market for Good Looking gardens, Parks, villas, Universities. Our garden bench is designed with concrete mix and precast high quality 53 Garde Cement using advanced tools for good quality and shape with the help of qualified professionals for our great customers. This bench is available in numerous specifications & we have the option for customize the design as per customers Requirements options.
Cement benches in Hyderabad
Concrete Benches Featurers:
Capacity of seating 3 Seater
Material Wooden
Bench Type With Back
Arm Rest With Arm Rest
Appearance Modern,Latest
Color, green,blue,red
Condition New Only
Seat Thickness 3 inch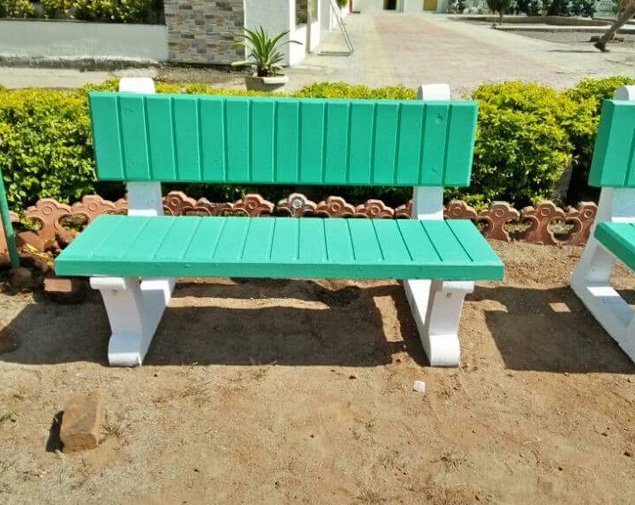 Outdoor Rcc Garden benches manufacturers Hyderabad:these new designed garden bench is provided in numerous colors, shapes and styles.we are doing and able to provide optimum quality Garden Bench designed and Backed by an young team of professionals
Features Heavy weight design for easy installation
concrete color for casual and natural apperance in gardens
Convenient no need to fill-hole at base for sand to add stability
Precast concrete mix is a great formula for building your own backsupport Concrete bench.
This high-quality backyard bench is nearly smooth designable. Once it does putty, and clean and cast, assembled, sealed by our backend Professionals, you can enjoy our benches so many years and never have to worry about taking it in for the summer, winter or rainy seasons to protecting from the elements. I'll guide you through built my bench so you can use it as a guide to experiment with your own design ideas and personal touches to create your own garden bench.
Are you looking for Concrete Park Benches in Hyderabad?
concrete table and benches for outdoor.
concrete table and benches for outdoor of home succulent round outdoor contemporary garden.
Concrete table and benches outdoor cement bench garden sale in Hyderabad with images image.
concrete table and benches cement patio furniture 3 chairs tablels set around 3 feet diameter around table.
concrete table and benches outdoor precast price landscape tables.
concrete table and benches complete garden bench suppliers in Hyderabad
If you are looking for a simple, yet very durable bench, you can always decide on this M-shaped piece of concrete. The bench is able to withstand weather conditions, and can also be a good place to place your decorations or pot plants.
In the event that you are searching for a basic, yet entirely strong seat, you can generally choose this M-molded bit of cement. The seat can withstand climate conditions, and can likewise be a decent here and there your adornments or pot plants.
The urban seats are multi-utilitarian, since they have a tops for working or eating! They includes one of a kind, present day shape and exceptionally tough and sturdy development.
This two fold seat enlivened of exemplary urban seat looks extremely goods. It has strong base made of rock. Situate and back are secured with wooden, painted sheets. It is planned to open region, particularly to the recreation center.
Such a one of a kind seat, reasonable for outside, can be a genuine scene changer, with regards to your terrace, nursery, or park rear entryway. With its complicated structure and monstrous development, it can withstand numerous long periods of use, and effectively oppose climate conditions.
Made of concrete and strengthened steel, this park seat includes round edges, curving back, and thick agrees with ball finials. The seat is climate safe and upkeep free. Weight limit is 2.500