RCC Tree Guards in Hyderabad
RCC Tree Guards in Hyderabad
SMR Precast is a renowned and most trusted brand of cement tree guard and RCC tree guard manufacturers and suppliers in Hyderabad. We supply rectangular, round, and square-shaped RCC tree guards in different designs, patterns, sizes, and colours. We manufacture tree guards as requested by the clients, keeping in view their diverse preferences. We mainly focus on maintaining quality raw materials, followed by advanced technologies in the industry.  
As a leading RCC tree guard manufacturer and supplier in Hyderabad, India, we SMR Precast possess extensive expertise in producing RCC Tree Guards for the beautification of outdoor areas like gated communities, roadside, open land, gardens, parks, roads, gardens, theme parks, offices, villas, resorts. Our products are also designed to protect small plants and growing trees from animals and other unwanted intrusions.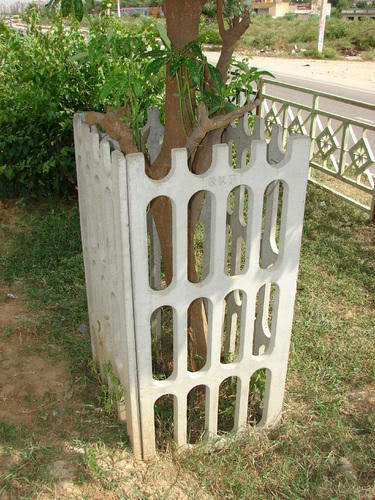 All our RCC tree guards and concrete tree guards designed carefully in enticing patterns and styles by making use of optimum grade raw material. The use of quality raw material is to meet both the aesthetic as well as utility requirements of our clients. Our team of experts always check and test our products at every stage of manufacturing and supplying. Our quality approved tree guards can be availed even in customized designs also.  
Get A Free Quote from elegantly designed RCC Tree Guard manufacturer and exporter in Hyderabad.
Features of RCC Tree Guards in Hyderabad
SMR Precast, the best RCC tree guard manufacturer and supplier in Hyderabad, offers a comprehensive and extensive range of tree guard products that are designed and customized according to the client requirements. We mainly focus on client comfort and preferences and design the product accordingly. We maintain efficiency and try to reflect the modern designs and trends. 
At SMR Precast, we always use the latest technology imported machines for manufacturing tree guards, to produce as custom-designed and option. Best Features of SMR Precast RCC Tree Guards in Hyderabad are including:  
Smooth finish

Crack resistance

Long-lasting

Light weight

Low maintenance

Durable design

Very High strength

Neat Appearance

Colour – based on customer choice

Design – based on customer choice

Flexible & Strong

Tolerant of all weather conditions

Water Proof

Light in Weight

Easy to Install

Pest & Borer Free

Available In a suitable size

Ultraviolet Resistant

Made up of M25 and above like M-30 grade of concrete
Get a Free Quote for Your Tree Guard in Hyderabad. To know more about RCC Tree Guard prices in Hyderabad,
Call Us: +91 +91 831-758-9548  
Why Choose SMR Precast for RCC Tree Guard in Hyderabad?
Leading and trustworthy manufacturers, exporters, and traders of a quality product 

Manufacture tree guards of height ranging from 3ft to 9ft above ground as per customer needs

All RCC tree guards are manufactured with quality raw materials to achieve shuttering finish

A unique choice of colors and unlimited custom colors  

Easy to install at your residential or outdoor places

Manufacturing and supplying RCC tree guards in numerous sizes

RCC tree guards in Hyderabad are available at affordable prices with superior quality 

Quality tested and long-lasting with less maintenance based tree guard's features
Beautify the area surrounding the trees and plants at your home or outdoor places with SMR Precast's RCC Tree Guards in Hyderabad. Get A Free Quote now!